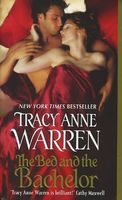 Series: Byrons of Braebourne (Book 5)
Everyone knows the Byron brothers are "mad; bad; and dangerous." But the devilishly desirable fourth son, Drake, is too scholarly to misbehave...or is he?

Lord Drake Byron has no time in his busy life to worry about taking a wife. He is more interested in the unbreakable code he has developed to defeat Napoleon's forces. Little does he know that the irresistibly lovely new housekeeper he's hired is really a French secret agent.


Sebastianne Dumont is not at all who she seems to be. Forced to spy to save her family, she embarks on a mission that takes an even more dangerous turn when she falls in love with the surprisingly tempting man she must ultimately betray. And if she succeeds in her mission, will she also break Lord Drake's heart, while leaving her own behind?
I really liked this book. Drake appealed to me in other books because he seemed so absentminded. In this one I definitely got more of why he was like that. I really admired the way he was able to focus on what he was doing until he got it where he wanted it. I also liked Sebastianne. She really didn't want to be doing what she was doing, but she had no choice. I really enjoyed the way that Drake was so attracted to Sebastianne right from the beginning. For a guy that swore he would never let a woman be able to distract him from his work, she got to him right from the beginning. I loved his internal conversations, telling himself to leave her alone. The chemistry between the two was fantastic. I also really enjoyed it when Drake went after her and the way he related to her family. Even though they are so young in this book, I really hope there will be stories for the twin.