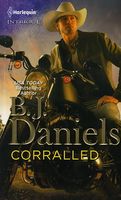 Series: Whitehorse Montana: Chisholm Cattle Company (Book 5)
When a mystery woman with a gleam in her eye and trouble on her mind hops on the back of Logan Chisholm's Harley, he thinks he's in for a wild ride. But Jennifer "JJ" Blythe James might be more than he bargained for.
The pretty pop star is running scared. Desperately trying to escape her past, JJ's defenses are on high alert.
She doesn't really want the cowboy's protection, but Logan knows that with a killer on her trail, she needs it. It's the only way the songbird who's corralled his heart will live to sing another day.
Very good book. I liked Blythe a lot. She seemed to know exactly what she wanted, and was able to go after it. Even though she had panicked at the beginning of the story, after that she was able to keep her head and think her way through things. Logan was immediately attracted to her when he saw her that first night. When she ended up on the back of his motorcycle, racing away from trouble, he wasn't sure what to think. As they found out more about what happened, he felt more and more protective of Blythe. There was a lot going on in this book, with seeing the other band members and what they were doing, and also Emma and the ongoing story there. The story felt a little disjointed at times, but I had no problem following it. I'm looking forward to the last story in the set and the resolution of the mystery.