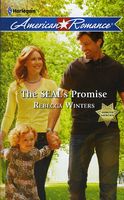 Series: Undercover Heroes (Book 1)
Private Investigator Chaz Roylance lives by a code of honor: always be the protector, always tell the truth and never get involved with a client. But from the moment he meets Lacey Pomeroy, the former navy SEAL knows he's in deep. With death threats aimed at her and her three-year-old daughter, Lacey needs the P.I.'s protection...not romance.

Faking a whirlwind engagement to draw the stalker out only confuses their arrangement. How can Chaz resist such an intriguing woman and the red-haired angel who calls him her hero? Together, Chaz and Lacey set out to unmask the threat. But when an identity's revealed, will their pretend family become real...or will the fantasy be torn apart?
Very good book. When Lacey started getting death threats against her and her daughter, she went to her boss. He immediately hired Chaz to find out who was doing this and to protect Lacey and Abby. I really liked Lacey. Besides being brilliant, I loved her creativity with her book and her radio show - definitely different than the average romance heroine. She was also a fantastic mother. Chaz was very good at his job, and took the threats against Lacey very seriously. He also found himself very attracted to Lacey, which never happened to him before with a client. Besides the attraction, he just enjoyed being with her and adored her daughter. As the investigation went on, he found himself thinking more and more about what it would be like to have them permanently in his life. But when the stalker's identity is revealed, Chaz is afraid that their future could never happen.