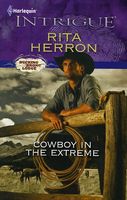 Series: Bucking Bronc Lodge (Book 2)
"There's an intruder in my cabin!"

The moment he heard Kim Long's terrified voice on the phone, Brandon Woodstock knew he had to help her and her little girl. Once, he'd promised to love and protect Kim forever. Now, in spite of the secrets that had come between them, the Texas rancher intended to keep that promise. But rescuing Kim riled all the wrong people -- and rekindled the attraction he'd thought ended with their broken relationship. Honoring his role as Kim's fiercest protector, he whisked her and her daughter to safety without considering the consequences. With a target on Kim's back and old wounds reopened, Brandon thought there'd be no more surprises. He'd never been more wrong.
Excellent book. I liked Kim a lot. She was an excellent mother to Lucy, and had started working at the ranch to help troubled teens. When someone attacked her and her daughter, she was forced to call on Brandon for help. Years ago they had split when he decided to marry another woman, breaking her heart. She never told him that he was Lucy's father. When someone succeeds in kidnapping Lucy and holding her for ransom, they have to work together to save her. And they also have to revisit the past and deal with their old hurts. I really liked Brandon's desire to protect Kim and Lucy, even before he knew Lucy was his. I kept reading as fast as I could at the end so I could see how it turned out. I'm also looking forward to Carter's story.