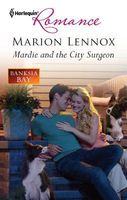 Series: Banksia Bay (Book 4)
The last person Mardie Rainey expects to see on her doorstep is her childhood sweetheart, Blake Maddock. Fifteen years ago, Blake Maddock had walked away, leaving her teenage heart sore and broken. But now -- with a thunderstorm raging overhead -- she can't turn him away, nor the injured border collie in his arms....

Blake Maddock spent his life running from one tragic mistake... Now the frightened boy has become a formidable man -- and he's coming back for the woman he has never forgotten....
Good book, pretty intense in places. When Blake came back to Banksia Bay for a class reunion he was hoping for a chance to see Mardie again, but wasn't sure if he should. When he had left for college, he never looked back. He had some good memories, but was also running from the tragedy in his childhood, always feeling that he had to make up for it. When he did show up on her doorstep, with a blind dog, he wasn't sure what to do. Blake was the last person Mardie expected to see. I got very frustrated with him, because he kept saying really stupid things, making him appear condescending about her life as compared to his. Every time he'd end up looking like an idiot, but he never seemed to learn. Mardie tried to protect her heart, since she had been devastated when he left. She did move on, marrying then losing her husband, but living a full life doing things she loved. She wanted to help Blake, but he just wouldn't let go of his past. I did like the way things worked out at the end. The funeral scene at the end was incredibly moving.