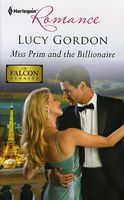 Series: Falcon Dynasty (Book 2)
Tycoon Marcel Falcon appears to be a man who plays love like a game. But deep in his heart lies a despair that has never left him since he was betrayed by Cassie, his one true love.

The past has changed Cassie, too. A destructive marriage stole her confidence and now she hides her model looks behind prim glasses and suits.


When Marcel and Cassie are thrown together again in Paris, a storm erupts inside them. He's her boss so there's no avoiding each other, no escaping the fact that they've both changed dramatically. Underneath, the spark is there -- but can it ever be the same again?
Okay book. I liked Cassie. I felt she had done a great job of going on with her life. She had gotten a business degree after her modelling days were done, and was very good at what she did. She had never forgotten Marcel, and her love for him was still there. When they were thrown together, she continued to do her job and tried to let him know what had happened in the past. I just couldn't warm up to Marcel. To me he was obsessive, wanting the Cassie from the past, keeping her separate from the new Cassie. He also tried to control her actions, constantly checking up on her, which is abusive in my book. He redeemed himself in the end, but I still didn't really like him.