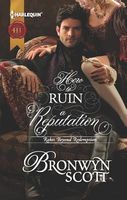 Series: Rakes Beyond Redemption (Book 2)
Ashton Bedevere: renowned libertine who can ruin a reputation quicker than other gentlemen can drink their brandy. After years in Italy, honing his skills in the delicious art of seduction, Ashe returns to London's high-class establishments -- preceded, of course, by his reputation for lavish opulence and unashamed wickedness.
Then his scandalous ways are abruptly ended by his father's death. To claim what is rightfully his, notorious lothario Ashe must do the inconceivable -- take a wife!
But who could possibly even think about marrying such a man? Certainly not the lovely Genevra Ralston. After all, she'd be finished in polite society. Wouldn't she? Yet Ashe's notorious charm and practiced touch could prove irresistible….
Very good book. When Ashe returns home after his father's death he is dismayed to find out that to have control of the estate, he must marry Genevra. He doesn't want to marry, but he will do so to save his home. He and Neva are immediately attracted to each other but there are things keeping them apart. There is also the mystery of why the estate's funds disappeared so rapidly, and who is behind the problems. I really liked both Ashe and Neva. Ashe had stayed away from the estate and his father because of an argument they had had when he was twenty. When he came back to his home he was filled with guilt and swore to make things right. At first he didn't trust Neva, but soon came to learn that she had been a great support to his family. He also quickly realized that his intense attraction to her could be a good thing, though he came on a little strong at first. I liked the way that he tried to protect her from his cousin. It took him awhile to realize that the happiness and contentment he felt with Neva was love, and almost left it too late. Neva was a good strong woman. She was a widow who had discovered too late in her marriage that her husband had been a fortune hunter and swore never to be in that position again. She had purchased the estate next to Ashe's and had plans to turn it into a home for women. She had become friends with Ashe's father and was stunned to find that she had inherited part of the trusteeship of the estate. She was not happy about her attraction to Ashe because she compared him to her late husband. After some time she realized he was different, that there was a good man under the rake on the surface. When he proposed a business marriage she accepted, and soon discovered she was falling for him. I liked the way that she was able to help him with the estate, and also that she cared enough to get him to talk about his past. I really enjoyed the final resolution to the mystery, though I felt bad for Ashe's brother. I'm looking forward to the final book in the series.