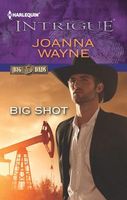 Series: Big D Dads (Book 3)
Fate brought Texas rancher Durk Lambert face-to-face with his ex-lover, Meghan Sinclair. The reckless but gorgeous P.I. had been beaten and left for dead, with no memory of her attacker, of Durk…or herself. Years ago she'd broken his heart, but no cowboy walked away from a woman in need.
While Durk kept her safe on his Bent Pine Ranch, his own memories threatened him -- laughing with Meghan, making love. He still wanted her, but he feared Meghan was the one woman he could never have -- and the one he'd lay down his life to protect. Because while Durk wanted her to remember, a killer needed her to forget.…
Good book. I liked both Durk and Meghan. Durk was at the hospital with his aunt when Meghan was brought in after being beaten. They had broken up two years before, but Durk still cared and made sure he was there for her. In order to protect her while she was trying to recover her memory he took her home with him. As they spent time together he was reminded of all the things he loved about her, but also of what had torn them apart. I really liked his protectiveness and how he tried to keep her safe. I also liked the way he tried to make her see how her activities tore him up with worry about her. Meghan was a very determined woman. She was very good at her job and never let anything stop her from doing what she felt was needed to get it done. Her loss of memory was frustrating for her because she was sure that if she could remember the events she would be able to solve the case. She also wished she could remember her relationship with Durk. She was still attracted to him and would like to see where it might go, but can't think about it until she can remember. When the final showdown occurs and she regains her memory she finally realizes what is most important.