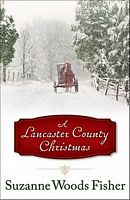 Jaime and C. J. Fitzpatrick began their married life as most couples do--in love and looking forward to a bright future together. But four years later they've drifted apart and are almost ready to call it quits.

Mattie Riehl was hoping to give her husband Sol the Christmas gift they have both longed for--news that a baby was on the way. But as usual, she is disappointed. The holidays bring an acute awareness to Mattie that her dream of a big family isn't likely to become a reality.

Then a winter storm raging outside blows the Fitzpatricks into the Riehl home--and into a much slower pace of life. Can these two couples from different worlds help each other understand the true meaning of love this Christmas?

Excellent book. I really liked all the characters in this book, even though they all had their issues. Jamie was so involved in her grief over her mother's death, and trying to be the daughter her father wanted, that she couldn't see what it was doing to her marriage. CJ loved Jamie, but he was having trouble reaching her anymore, and was afraid that he was losing her. Mattie was so filled with despair over her inability to get pregnant that she was trying to control everything around her. She was being overprotective of her son and critical of her husband. Sol couldn't make Mattie see what she was doing to Danny, and was frustrated by her inability to see that Zach was going further down the wrong road. Zach was confused about what he wanted, and kept getting into trouble just for the attention. Thanks to the snowstorm, they were all thrown together. Because of a crisis, each was able to move ahead and see where they belonged to each other.