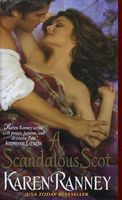 Series: Scottish Sisters (Book 1)
One scandal was never enough . . .
After four long years, Morgan MacCraig has finally returned to the Highlands of his birth . . . with his honor in shreds. After a scandal, all he wants now is solace-yet peace is impossible to find with the castle's outspoken new maid trying his patience, challenging his manhood . . . and winning his love, body and soul.
Jean MacDonald wants to leave her past behind and start anew, but Ballindair Castle, a Scottish estate rumored to be haunted, hasn't been the safe haven she envisioned. Ballindair's ancestral ghosts aren't as fascinating as Morgan, the most magnificent man she's ever seen. Though their passion triggers a fresh scandal that could force them to wed, Jean must first share the secrets of her own past-secrets that could force them apart, or be the beginning of a love and redemption unlike anything they've ever known.
Good book. Morgan has returned to Scotland, escaping London and the scandal of divorcing his wife. He is looking forward to peace and quiet and instead runs into Jean, a fascinating maid. Jean and her sister are also looking to leave behind a scandal of their own. I really liked both Morgan and Jean. Morgan started out pretty stuffy, trying to live down his scandal by attempting to live up to his memories of his father. He is fascinated by his encounters with Jean, who is unlike any maid he has ever known. She is honest to the point of bluntness and he is immediately attracted to her. Jean is trying to be the best maid she can be. She has accepted her changed circumstances and puts her past behind her. When she is caught in a compromising position with Morgan they marry to satisfy his honor. Their passion is immediate and strong, but they also find that they like each other. Jean isn't comfortable as a countess, feeling that she is unsuited for the job. Morgan thinks she is just fine.
There was some good character growth in both Morgan and Jean.

I like the way that Jean brings out the best in Morgan, showing him what needs to be done at Ballindair. Morgan shows Jean the respect and trust she needs and eventually the love they both need. I really liked the way that Morgan eventually saw Andrew as the smarmy non-friend that he actually was, and what he did about it. I also liked the way that Morgan dealt with Jean's sister Catriona, another character well worth despising. I really liked the ending.