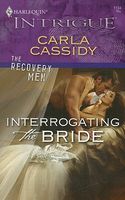 Series: Recovery Men (Book 1)
Former navy SEAL Micah Stone could spot danger a mile away. And the alluring bride who'd stowed away on the plane he'd been sent to repossess set off every red flag in the book. Caylee Warren claimed she had nothing to do with her "fiance's" murder. When it began to look as if Caylee was the intended victim, Micah had no choice but to take her into hiding. But for a man who never let anyone get close, protecting Caylee was more than he could handle. Could he let her break down the walls he'd erected around his heart...even if it meant distracting him from the mission at hand?
Pretty good book. Micah had found Caylee hiding in the plane he was repossessing, trying desperately to escape her creepy boyfriend. By the time they landed in Kansas City, the boyfriend was dead and they were accused of the murder. As their investigation went further it became apparent that it was Caylee who had been the intended victim. As the next few days went on they discovered an intense attraction for each other. I mostly liked Micah and Caylee, though I did have some issues with them. I liked the way that Caylee was able to get away from her boyfriend and escape the island. I did think she'd been pretty dumb to go with him in the first place, but her wish for a relationship was her motivation. She didn't like Micah much at first, but was smart enough to know that she needed his help. As she spent time with him she got to know him as a man and could see that he was the type of man she could love. I liked the way that she wanted to help him see his early life in a better way. She also felt that they'd been brought together for a reason, and that was for them to have a life together. Micah was a basically good guy. You could see how much he cared about his partners, even if he didn't see it the same way that Caylee did. He always felt that he was better off alone, and kept his relationships superficial. His time with Caylee was an eye opener for him, because she saw things in him that he didn't think existed. This scared him, since he didn't want to open himself up to that kind of pain. When the mystery was solved and they parted, Caylee was devastated. I enjoyed the ending when he came back. I could see the difference in him now that he had let the walls down. Someday I will have to read his friends' stories.