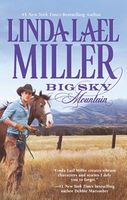 Series: Parable MT (Book 2)
With his rugged good looks, vast wealth and family name, hell-raiser Hutch Carmody is still the golden boy of Parable, Montana. But he's done some growing up -- making peace with his illegitimate half brother and inheriting half of Whisper Creek Ranch, which should have been all his. These days, Hutch knows there are some things money can't buy: like the heart of loving, ladylike divorcée Kendra Shepherd.
Kendra's quiet mansion reminds her of what she wants most -- a devoted husband and the pitter-patter of little feet. She can't get Hutch Carmody out of her mind. But a rough-and-tumble cowboy like Hutch, coming home for family dinner? Seems crazy! Then again, crazier dreams have become reality under the vast Montana sky.
Very good book. Kendra has returned to Parable with her adopted daughter, looking for the best place to raise Madison. She has her daughter, her business and her friends, and has no intention of inviting a man into her life. Hutch has mellowed since we saw him in Big Sky Country. He has gotten to know his half brother and they are friends. He has also come to realize that his life is rather lonely. He nearly married a woman he didn't love, coming to his senses just in time. Now Kendra is back in town and making him want what he gave up years before. I really liked both Kendra and Hutch. I loved the way that Kendra was so focused on taking care of Madison. She was a fantastic mom, able to give her what was needed without spoiling her. Kendra and Hutch had been in love years before, but had broken up and gone their separate ways. Now she wasn't sure if she could trust Hutch to be the type of husband and father she needed, as he had a reputation for being wild. She was very cautious, but Madison just loved her "cowboy man" so she decided to give him a chance. Hutch had given up his wild ways and made friends with his brother Slade. When Kendra came back to Parable, he realized that he had never forgotten her or gotten over his love for her. He was determined to get back into her life and not give up on them a second time. I loved seeing him with Madison - it was obvious he was going to be a fantastic father. This was a slower, gentler romance, and a very satisfying one. The passion was there between Hutch and Kendra, but it wasn't overpowering. I loved seeing more of the people of Parable. Slade and Josslyn have become parents, Opal is still feeding everyone, and we get hints of what is to come in the next book. I can't wait!