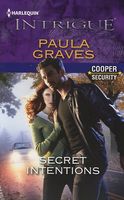 Series: Cooper Security (Book 6)
AS A MAN OF ACTION, HE'D NEVER BREAK PROTOCOL. BUT HE'D NEVER BEEN SO TEMPTED...
Although he was trying to crack a global conspiracy, former Marine Jesse Cooper had an even more important mission: keep new hire and girl-next-door Evie Marsh safe. Shocked to learn Evie could be the key to bringing down this secret plot, the head of Cooper Security had to stifle his attraction to her. After all, the case was on the line-and so were their lives. But between dodging bullets and staying one step ahead of the enemy, temptation became impossible to resist. As a man made for danger, Jesse thought sweet Evie had no place in his world. Then, in the heat of the moment, she proved she'd always have his back-or die trying....
Very good book. Jesse is working to help solve the secret of the coded journal. Evie Marsh's father is one of the men with the code. At her sister's wedding Evie is abducted in an attempt to coerce her father. Jesse was there to rescue her and took her into hiding to protect her. They began working together to find out more about who is behind the plot. This brings Evie more to Jesse's attention as a woman, and increases his attraction to her. I liked both Jesse and Evie. Jesse had once been engaged to Evie's sister, but the engagement didn't work out as they didn't want the same things out of life. Jesse had always liked Evie, but she was always Rita's little sister. When she came to work for Cooper Security he was impressed with her intelligence and her coolness under stress. During their time together his attraction grew stronger, but he was having trouble getting past the little sister part. As the search grew more intense he also realized that he wanted more than just to keep Evie safe. By the end he understood that what he felt for Evie was far more than he had ever felt for Rita. Evie had had a crush on Jesse from the time she met him. This crush had developed into love, even while he was engaged to Rita. After the breakup she didn't see him again until she started working for Cooper Security. She discovered that her feelings had never gone away, but thought that Jesse was still in love with Rita. I loved the way that she was able to think on her feet and was able to get herself out of a couple jams. She was also able to keep up with Jesse when they were working their searches and made significant contributions to their efforts. I really liked the way that things worked out for her and Jesse. I felt like there is still more to be done with tracking down SSU people. There was also mention of a Briggs Cooper, which makes me think there may be more Cooper stories down the line. I sure hope so - I love the Coopers!