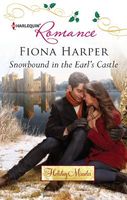 Series: Holiday Miracles (Book 1)
Forthright Faith McKinnon is driving English aristocrat Marcus Huntington crazy! Ever since she turned up at his castle to research a valuable stained-glass window, Marcus can't stop thinking about her. Faith might try to hide her true self behind a facade of feistiness, yet to Marcus she's as transparent as the glass she studies. What's more, the vulnerable woman in hiding is frighteningly appealing.
Marcus and Faith don't believe in fairy tales, but being snowed in together over Christmas feels like magic. And the best gift of all would be discovering that happy-ever-afters really can come true….
Good book. Faith had been sent to Hadsborough Castle by her grandmother to help out an old friend. When she arrives the grandson isn't any too happy to have her there. He thinks that his grandfather's obsession with the window is asking for trouble. Plus, Faith gets under his skin in a very basic way. When he finally gets on board with the search, he and Faith spend a lot of time together. They find themselves growing closer, but each has issues that keep them from opening up completely. I liked both Marcus and Faith, though I did have some problems with each. I liked the way that Marcus was protective of his grandfather. There had been enough family problems and Marcus didn't want anything else upsetting him. Marcus had also been hurt by a woman, and his instant attraction to Faith reminded him of that. He didn't want to fall into the same pattern, so he tried hard to keep her at a distance. The more he got to know her, the more he saw that there were two Faiths - one the calm, closed off Faith, and the other a vibrant, animated Faith. Faith was excited to be working on the window, and thrilled that she and Marcus were trying to figure out the mystery. But Faith had self worth issues because she felt she never fit in with her family, and though she had fallen in love with Marcus felt she would never fit in his world either. I didn't like the way she was so ready to give up on Marcus and on their window search. I did love the way that she found the answer they were looking for at the end. I hope that the last book in the series has an epilogue that deals with her family, because the story was left hanging.