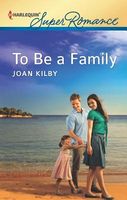 Series: Summerside (Book 5)
The courage to try again
What do you do when your dreams for tomorrow happen today? John Forster's plans to eventually be a father hit high gear when he's granted custody of his little girl. Although he does his best, it's soon clear she needs help adjusting to this small Australian town. Fortunately, there's one person with the right skills to assist-Katie Henning. Too bad she's his ex-fiancee.
Seeing Katie with his daughter resurrects John's dreams about having a family together. And the simmering attraction that still sparks when he's with Katie makes him think, maybe. Maybe he can make up for their past. Maybe he can build on what they share now. And maybe they can have that future he's always wanted.
Very good, very emotional book. John brings his daughter back to Australia after her mother dies. He hadn't expected to be thrown into fatherhood and feels like he's in over his head. Katie is the perfect person to help, but they have to overcome their past first. Seven years earlier they had had a disagreement over her treatment options when she had cancer. He walked away in hopes of it forcing her to see things his way. Since then neither one has been able to move on. Now Katie is trying to help Tuti and John is trying to get involved with Katie again. I really liked both John and Katie. They both had some real issues to work through and at times it seemed that they never would. John is overall a really nice guy. He steps up to bring Tuti home with him and is trying to do the right things for her. He tends to be an instinctive kind of man when it comes to dealing with issues, but his instincts don't always work so well with Tuti or Katie. He also prefers to deal with traditional options when it comes to medical care and Katie's naturalistic preferences bother him quite a lot. He is also a man who tends to get loud in his arguments and doesn't always listen to the other side. This created problems with Katie both past and present. Katie had developed a rather fairytale approach to love and always seemed to expect John's unquestioning support no matter what. Every time it appeared that she and John might be getting closer she seemed to throw up some sort of roadblock or test that he was bound to fail. She always seemed to be expecting him to walk away and leave her again, but she also seemed to be doing her best to drive him away. I liked the way that she finally looked at what she was doing and how to fix it. There were parts of the book that had me in tears which is, to me, a sign of a very good book.