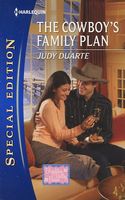 Series: Brighton Valley Babies (Book 3)
Solemn rancher Alex Connor was looking for a good woman. To be more precise, he was looking for a surrogate to bear his babies. He had it all figured out: he'd be a single dad completely devoted to his children. But after his first meeting with obstetrician Dr. Selena Ramirez, all his carefully made plans flew out the window.
Selena knew she'd be able to help Alex, though not in the way he might imagine. Common sense told her to run when the sexy green-eyed cowboy admitted he wanted her. What kind of crazy fate had brought a man yearning for offspring to a woman who couldn't have any? What kind of crazy girl would gamble on a man whose heart was already taken?
Good book. I really liked both Alex and Selena. Alex had lost his wife two years earlier, along with their unborn baby. Because they had used in vitro, there were still two embryos available and he was determined to find a woman to carry them so he could still be a father. He met Selena when she was giving a class on surrogacy and was immediately interested in her more than professionally. He made it plain to her that he was interested in her and they spent time together. After awhile he realized that he was falling for her and thought that she might be willing to be part of the family. Selena had been hurt once by a man who had never forgotten his first love. She was afraid that Alex's first wife would always come first in his heart and didn't want to be hurt that way again. She had also found out that she could never have children of her own, which made Alex's plans hard for her to hear about. I liked the way that Alex wanted Selena to be part of the family and never thought about comparing the two women. I found Selena's fears to be understandable, but their happiness could have come a lot quicker if she had just talked to Alex about them. I loved the way that things finally worked out for them.