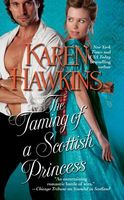 Series: Hurst Amulet (Book 4)
A DETERMINED EXPLORER
When famed Egyptologist Michael Hurst discovers that the infamous Hurst Amulet is hidden in Scotland, he insists his trusted assistant, Miss Jane Smythe-Haughton, accompany him north. Strangely, the usually unflappable Jane seems perturbed by their destination -- the mysterious Isle of Barra. A fascinated Michael watches as his staid assistant transforms, revealing intriguing layers of mystery and vulnerability. Could he be about to uncover not one, but two, precious treasures?
A DAUNTLESS PRINCESS
Once her clan's princess, Jane fled Barra years ago to avoid a forced marriage. Since then, she has made her living as efficient Miss Smythe-Haughton -- the perfect (and highly paid) assistant. Now she must confront her secrets . . . including her feelings for her irascible employer, too-handsome-for-his-own-good Michael Hurst.
A PERILOUS PLEASURE
Others are also searching for the missing amulet, however. Can Jane and Michael learn to trust each other in time to solve two riddles: the location of the Hurst Amulet, and the meaning of the vivid passion flaring between them?
Good conclusion to the Hurst Amulet series. Michael and Jane have been searching for the amulet for four years and have finally tracked it down to the Scottish island of Barra. Jane has been his unflappable assistant for all of those four years, but she now seems to be bothered by their destination. This glimpse under the surface has Michael noticing more than her capability, he is seeing her more as a woman. Once they arrive ob the island, Michael discovers that she used to live there, and was their laird's daughter. After her father's death her uncle tried to marry her off to her cousin. She didn't love him and wanted only to leave the island and strike out on her own adventures. So they hatched a plan and she left to live under an assumed name. When they arrived on the island she discovered that things had not gone the way they were planned and she had some things to fix. She and Michael also discovered there was someone else looking for the amulet, and had to hurry to find it. I liked both Jane and Michael. Their working relationship had been wonderful. Jane had enough self confidence and backbone of her own not to be intimidated by his moods. She was very intelligent and organized and did a great job of keeping his life running smoothly. She seemed to know exactly what to do at any time to get him to do what was necessary. The ball he attended at the beginning of the book was a prime example of the way she worked. That whole scene made me laugh. She had planned her departure from Barra very well for a sixteen year old and had planned to never return. Michael had begun noticing her as a woman at the time they headed for Barra. He couldn't understand this sudden fascination, and it only intensified the closer they got to Barra. While they were there he learned more about her and became even more fascinated by her. I loved the way they were so comfortable with each other, after having worked together for so long. I could see in their conversations and teasing how much they cared, though neither seemed to be able to see it until after they were on the island. I loved how Michael was so intent on getting to know her secrets. He also knew her well enough to be able to figure out how to get her to tell them. He was a typical man in that he didn't seem to understand what his feelings were until it was almost too late. I did love the final confrontation and the way things worked out for everyone. There were a couple of twists that I didn't expect. While there was passion between Jane and Michael, this was a slower developing romance than in the other books.