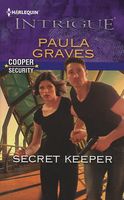 Series: Cooper Security (Book 5)
Although a missing Annie Harlowe and her entire family were at the forefront of a Cooper Security investigation, Wade Cooper never expected to stumble upon the half-conscious beauty in his own backyard. Thankfully, Annie had somehow escaped her captors. Unfortunately, she had no memory of the past three weeks. Before long, the memories slowly began to return -- and the threats to her life turned deadlier. And although her well-being was becoming more than just an assignment, Annie's safety remained the battle-scarred Marine's top priority. Still, for a man who'd avoided the risks a relationship was bound to bring, could Wade really walk away once this case was closed? And what could his future possibly hold if he did?
Excellent addition to the Cooper Security series. Wade found the missing Annie Harlowe in his backyard, injured and missing large chunks of her memory. Protecting Annie became Wade's top priority, especially as her memory began to return and they discovered just what the bad guys were after. Both Wade and Annie were attracted to each other, but neither felt they were good relationship risks. The bad guys are getting more desperate in their attempts to stop Cooper Security's investigation, as the team gets closer to finding out who the mastermind is. I really liked Wade and Annie. Wade is still trying to recover from his war injuries when he finds Annie. Something about her makes him want to protect her beyond what is required by his job. I loved the way that he was so gentle with her, especially when she would have her flashbacks. He feels somewhat useless sometimes because of his injuries, but when he is with her he tends to forget about them. Like all the Coopers he is calm in a crisis and that very calmness is what Annie needs to get through this crisis. Annie is a great character too. As an investigative reporter she is used to figuring things out and also keeping secrets. When she and her parents are kidnapped in an attempt to get her father to give up the secret journal he and his fellow generals kept, she has to keep his secret even under torture. She is able to escape and ends up being rescued by Wade. With the gap in her memory, she isn't sure who she can trust. Pretty quickly she realizes she can trust Wade, and soon they are trying to bring back her memory and figure out where her parents are. Her developing feelings for Wade add to her feelings of trust, and by the end of the book they know they want to be together. I'm really looking forward to the next book and the conclusion of this series. I really want to know who is behind all these problems.