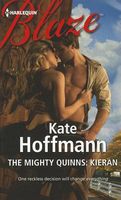 Series: The Mighty Quinns (Book 19)
How do you start a life from scratch? On a quest set by his Irish grandfather, businessman Kieran Quinn is trying to figure that out when his destiny comes sailing through the bus station door in the form of smokin'-hot country music star Maddie West. She's desperate and on the run. And Kieran's future suddenly looks a lot like trouble…sexy, irresistible trouble!
The attraction between Maddie and Kieran is immediate…and electrifying. With Maddie hiding from the press and her overbearing mother, they impulsively decide to make a break for it. Now they're both on the run -- and it's turning into one sizzlin' sexcapade!
But they only have six (sex-filled) weeks to escape their fate…or find a new one!
Very good book. It's Kieran's turn to fulfill his grandfather's wishes and follow a dream. While taking a bus to the little town of Bitney KY, Kieran meets Maddie. She is a country music star who is basically running away from home. She has been doing tours and concerts since she was fourteen, and her life is run by her mother. She enlists Kieran's help to get her to her grandparents' home near Bitney. Trying to keep Maddie's anonymity is a challenge and they find themselves making plans that are constantly changing. They are also dealing with an intense attraction to each other, even though they don't think it has a future. I really liked both Kieran and Maddie. Kieran has been challenged by his grandfather to take six weeks and try a new life. When he meets Maddie at the bus station he is immediately hooked and attracted. He decides to help her escape her responsibilities for awhile. During their trip he has to learn to relax his need to control every little thing. His exposure to Maddie's way of doing everything on a whim is a real eye opener for him. He learns that it is possible to be spontaneous without bad things happening. I loved the way that he was able to have fun with Maddie. He also enjoyed the chemistry they had, and soon found that it was deepening into something lasting. I loved the way he was able to support her on her quest to take back her life. He encouraged her to stand up for what she wanted instead of running away. Maddie was terrific too. Because of her celebrity status, she had not had a normal life and had not experienced any of the things a normal teenager would have. When she escaped from her mom she went a little overboard on trying to do everything she hadn't been able to do. She was pretty clueless on how to do a lot of things, she would just throw money at the problem and move on. I loved the way that her impulsiveness rubbed off on Kieran, and the way that he would try to help her do things in a more controlled manner. She was so frustrated with not being able to have input into her life that she reacted by running away. Every time that something came up that she didn't want to deal with on the trip she would change the direction of where or how they were going. Kieran was very good at helping her see what she was doing and encouraging her to stand up for herself. I loved the way he was able to help her and her mother see the financial problems the tour was having and how. The ending when Maddie showed up at the boatyard was really fun. I'm looking forward to the next two books in the series.