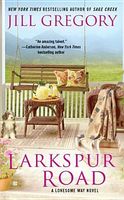 Series: Lonesome Way (Book 2)
Fifth grade teacher Mia Quinn expected a tranquil summer in her hometown of Lonesome Way, Montana, sewing for her quilting group's exhibition fundraiser and caring for her rescued dog, Samson. But all her plans for a relaxing break are thrown out the window when Travis Tanner -- the boy who broke her heart in high school -- returns to town with his ten year old adopted step-son.
A former FBI agent, the boy Mia once knew is now well over six feet of male muscle -- and he still has the power to make Mia lose her train of thought with just a glance. When Travis asks her to tutor his troubled son, Mia quickly discovers that the sparks between them are hotter than ever. As danger comes to Lonesome Way and family secrets come to light, will Travis and Mia realize that love can be even better the second time around?
Very good book. Travis has returned to Lonesome Way to live. He has brought his stepson along for the summer. Mia is looking forward to a nice quiet summer break. Instead, she gets Travis, her niece Brittany, and a family secret to discover. Travis would really like a second chance with Mia, but she wants nothing to do with him. He does manage to convince her to tutor his son which puts them in frequent contact. The attraction is immediate and intense. Mia also is trying to get to know her estranged aunt and bring the family back together. Mia is also dealing with her niece, who seems to be very much on edge. That problem brings some danger to them. I really liked both Travis and Mia. Travis knows how badly he hurt Mia when they were teenagers and has regretted it for years. He really wants a chance to apologize and see if they can move on from there. He is a really good guy which shows in how much he loves his stepson. I love the way that he has brought Grady to Montana and is determined to help him. He even goes to Mia and asks for her help in tutoring Grady. I love his patience in dealing with Grady and his problems and in getting Mia to trust him again. Mia is great too. I loved the way that she takes Brittany for the summer. She senses that there is something wrong and does her best to help. I love the way she is so supportive of her niece. Mia was not happy that Travis was back and was still angry over how he had hurt her all those years ago. She didn't let that stop her from helping Grady. She was great with him and I loved the way that she was able to help him get his confidence back. Her immediate attraction to Travis bothered her because she was afraid she would get hurt again. But the more time they spent together the more she realized that they were no longer the kids they had been the last time. Their relationship now was much better. I loved his proposal at the end. I loved Grady. He was a terrific kid and it was easy to see why he had his problems. I loved how he was determined to do what needed to be done. I was really happy with the solution that Travis came up with at the end. Brittany was a sweet girl that was trying to deal with a problem alone. When she finally came clean I loved the way that Travis and Mia were able to help her. The resolution of that problem was pretty scary. My heart really went out to Aunt Winny. She was such a miserable old grump at the beginning. I really loved the way that Mia didn't give up on her. When she finally told her story it was so sad. I loved seeing her open up and become part of the family.