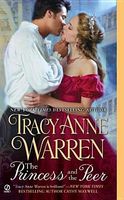 Series: Princess Brides (Book 1)
When a royal summons from her brother arrives, Emma knows it's time to embrace her duties as the princess of a small European kingdom, and marry the man her brother has chosen for her...a stranger she has never met. Instead she does what any self-respecting princess would do -- she runs away. All she wants is one week in London. One week to experience everything life has to offer, before she is locked away in a loveless marriage forever...
Former naval captain Nick Gregory has inherited a title he never wanted. As the new Earl of Lyndhurst, he chafes against his landlocked existence -- until fate brings a mysterious young beauty across his path. Believing she's an unemployed governess, Nick offers shelter and protection to the captivating girl, never guessing her true identity.
Emma falls hard for Nick, but knowing they have no future, she flees once more -- this time back to her royal responsibilities. But when she and Nick unexpectedly meet again, she learns that against all odds, he's determined to make this princess his bride...
Very good book. When Emma finds out she is to marry a man twice her age to benefit her kingdom, she decides she needs a chance to live a little first. Being a little naive, she runs away to London, hoping to stay with a former teacher for a week. But first she is robbed, then finds out that the teacher isn't at home to help her. Nick comes to her rescue, and offers her a place to stay. He even brings in his aunt to play chaperone. For the next week they spend time together, with him showing her the sights of London. They enjoy themselves so much that Nick talks her into staying longer, and they get closer still. But Emma knows there is no hope of a future for them, and goes back to her responsibilities, never having told Nick who she really is. When they meet again, she is still heartbroken as her brother will not let her out of the upcoming engagement. When her two friends arrive to visit, they try to help. In spite of her position, Nick still wants to marry her, and will do his best to get what he wants.
I really liked both Nick and Emma. She is young and inexperienced with the world, which is how she ends up in the predicament she does. She was very lucky that Nick was the one who helped her. She knew she wanted her chance to live a little and was very happy with the way Nick was willing to help her. She was attracted to him and very quickly fell in love with him. Knowing it was impossible, she went back to her brother, accepting her fate, but was completely miserable. She met Nick again at a ball, where he discovered who she really was. She understood his anger at the deception, but was still convinced their love was impossible. Her total pessimism in regards to her future was a little hard to take sometimes. She made some efforts at talking to her brother and explaining her feelings, but I never got the feeling she tried all that hard. I really liked Nick. He wasn't happy taking over the title and responsibilities after his brother's death, but he did it. When he came to Emma's rescue, I could immediately see that he was a protector, and that being with her made him happier than he'd been in a long time. I could see him falling in love with her, and how devastated he was when she disappeared. His hurt and anger at her deception was completely understandable. I liked the way that he was able to move past it when he realized how much he still loved her. I liked the way he was able to have help from Emma's friends and how he tried to do the right thing at first. I could see the solution that they ended up with fairly early, but I enjoyed the way it happened. I loved the other two princesses and what good friends they were to Emma. I really liked the way they were able to help Nick and Emma get together. Emma's brother still rather annoys me, but I think I know what is going to happen with him and I can't wait to see it.