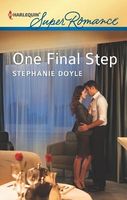 A new image…step by step
Who said moving forward is easy? Car thief turned race car driver, Michael Langdon has worked hard to build his image. Now to take it to the next level and become a successful manufacturer, he needs to kick that image up a notch. Enter Madeleine Kane, a genius at adjusting public perception. With her in charge, he's guaranteed to look better while keeping his darkest secrets where they belong -- in the past.
Doesn't take long, however, for his ambition to change and the campaign to become personal. Because he wants Madeleine -- as beautiful as she is talented and smart. First, Michael must overcome her reservations about crossing professional boundaries and persuade her he's worth the risk…without revealing those buried parts of himself. Good thing he's very persuasive.
Good book. Michael needs Madeleine's help to take his image from playboy to businessman. She is williing to do the job, but only if she stays in the background. She was in the middle of a scandal seven years earlier and she doesn't want that to affect the job she does for Michael. Michael is attracted to Madeleine early on and wants to get to know her better. They spend a lot of time together and get close, but each still has issues to overcome. It took me awhile to really get into this one. I liked Michael. He had paid his debt and made the decision to make something of his life. He had one issue from his time in prison that he was having trouble overcoming, but his time with Madeleine helps with that. I had a harder time warming up to Madeleine. Her part in the scandal was entirely her own fault and I had trouble dealing with what she did. It got better by the end of the book, and I did like the way she came through for Michael at the end.