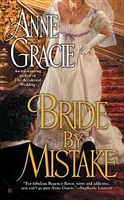 Series: Devil Riders (Book 5)
Eight years ago, Lieutentant Luke Ripton made a hasty wartime marriage-in-name-only to protect a young girl from a forced union and left her protected in a remote mountain convent. Now, Luke is Lord Ripton, but he has been unable to obtain an annulment. Which leaves him no choice but to claim a wife he doesn't want.
For nearly a decade, Isabella has waited like a princess locked in a tower, dreaming of her handsome, dark-haired prince. Her dreams are shattered when Luke reveals himself not as a prince, but an autocratic soldier, expecting her unquestioning obedience, which is something Isabella's fiercely independent nature will not tolerate.
And while Luke and Isabella's fiery personalities clash at every turn, they remain bound to their vows, never expecting that the passionate fury they share could become passion of a different kind...
Very good book. Luke married Isabella when she was thirteen to protect her from her cousin who wanted to marry her for her fortune. It was the middle of a war, so he took her to her aunt, who was a nun, intending to get the marriage annulled when the war was over. When he finally got around to it, he found out that it could not be annulled, so he returned to Spain to claim her. He didn't want to be married, but figured he'd deal with it. Having been raised in the convent, he expected a quiet, obedient girl who would be no bother. Isabella had been left at the convent for eight years, part of that time during the war. She had been raised almost like a boy by her father, so she was intelligent and independent. She had also been waiting for Luke to come for her, dreaming of the time she would be his wife for real. She was devastated by his attitude when he did arrive. She stood up to him, insisting she wanted to return to her old home to check on her half sister. When Luke refused, she sneaked away intending to go on her own. When he followed her, they ended up doing as she wanted. As they made their trek, Luke was drawn to Isabella in a way he didn't expect. He found himself wanting to be nice to her and to take care of her. But he is tortured by memories of his wartime experiences in Spain, memories that make him feel unsuitable to be anyone's husband. I loved Isabella's independence. Her escape from Luke to go find her sisters was hysterical. I loved the way she turned the tables on him. I also liked her realistic attitudes. She had accepted Luke's statement about not loving anyone, and decided she would make the best of her new life - after she was done in Spain. I liked the way that she could see Luke's pain and wanted to help him deal with it. She wasn't whiny or obnoxious, she was simply determined. Her method of dealing with his shirt was clever and it worked. I enjoyed the way they worked together to deal with her sister's situation, and again when they met up with Luke's nemesis. The conclusion was great, and I loved the events leading up to his sister's ball.