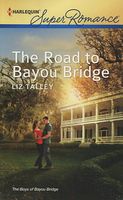 Series: The Boys of Bayou Bridge (Book 3)
As a wild teenager, Darby Dufrene tore up the roads around Bayou Bridge. However, years of serving in the navy have reformed him. Now that he's discharged, he's ready to settle down…just not here in Louisiana. But his "quick" visit becomes the opposite when he discovers that a long-ago, impulsive wedding he had with Renny Latioles was not annulled.
Fine. He and Renny are in perfect agreement -- an uncontested divorce and he'll be on his way. Too bad the crazy attraction that pulled them together before is just as strong, and it isn't listening to logic. Spending time with her makes him crave more. It could be they're still married for a reason.…
Good book. Darby was the bad boy of Bayou Bridge when he was a teenager. He and Renny were young and in love and snuck off to get married. On the way home they were in an accident where Renny was badly hurt. Their parents lied to them about the other's feelings and sent Darby away to military school, where he then went on to college and law school and joined the navy. All that time he thought that Renny hadn't wanted him any more and that their marriage had been annulled. When he left the navy he discovered he was still married to her and headed home to try to fix it. He had decided that he was going to look for a new job as a lawyer in Seattle where a girl he was interested in lived. When he got to Bayou Bridge he discovered the deception and that because of it, Renny had been broken hearted. Renny had gone on to college and become a biologist who is studying herons in her hometown. She is not happy to see Darby again and stunned to find out about their marriage. Both of them are surprised to find that they are still attracted to each other and decide to try to get to know each other again. They are making progress until the girl that Darby had been dating shows up, even though he had told her they were done. This causes some drama between Darby and Renny that is kind of fun to watch. Darby was definitely confused about what he wanted. On one side he wanted away from Louisiana and his family's drama, but on the other he had missed his home and the people he loved. Renny was irritated by his attitudes and basically told him to come see her when he figured out what he really wanted. The resolution of their love was very good. I also enjoyed the two mothers, both of whom could be considered "steel magnolias". They knew what they wanted for their families and had no trouble going after it, but did it in an apparently genteel manner. I also loved the meeting between Darby and his recently found twin sister - that was very funny to see!