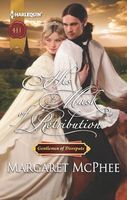 Series: Gentlemen of Disrepute (Book 3)
Beautiful Marianne Winslow has had her share of suitors -- and her share of scandal. Three engagements, no wedding… And the ton is beginning to talk.
Smoldering Rafe Knight has lived the past fifteen years of his life with one goal -- avenging the death of his parents. His final target? The Earl of Misbourne. The perfect bartering tool? The Earl's daughter, Marianne….
Held at gunpoint on Hounslow Heath, Marianne is taken captive by a mysterious masked highwayman. Her father must pay the price -- but Marianne finds more than vengeance in the highwayman's warm amber eyes….
Good book. Rafe kidnapped Marianne to use her as leverage against her father. Once he had her he discovered that she wasn't the spoiled girl he expected. She refused to believe the things he said about her father and had no problem standing up to him. Over the next few days he they found themselves to be attracted to each other. When Rafe's attempts to get what he needed from her father without endangering her, he returned her to her home. Marianne also found herself unwilling to assist her father in finding out who the highwayman is. Rafe made a point of encountering her several times over the next few days because he couldn't stay away from her. When one of these encounters ended up compromising her reputation, Rafe married her. Now he had to decide which was more important - his revenge or her love. I liked both Rafe and Marianne. I thought she handled her abduction pretty well. The only time she lost it was when she was left alone in the dark and we find out why that is later in the book. I liked the way that she stood up for her father when Rafe was telling her why he took her. When she returned home and overheard her father, she lost faith in his honor. She had started developing feelings for Rafe from the beginning, and then did her best to warn him of danger from her father and brother. When they ended up married she was amazed at his tenderness and patience with her fears. Rafe was really terrific too. I could see his intent on his revenge, but he was very good about making sure that Marianna was safe. The more he was with her the more he was drawn to her and her couldn't understand why. Even after he let her go he couldn't stay away from her. When they married he saw how panicked she was, he was incredibly patient at introducing her to passion. As things came to a conclusion there were a couple twists that I didn't see coming but certainly explained the tension on both sides of the problem. I loved learning more about Rafe and Marianne as the book went on - it made them more real to me.