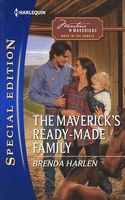 Series: Montana Mavericks: Back in the Saddle (Book 4)
THUNDER CANYON NUGGET
"Invasion of the Baby Mavericks "
What could be more of a handful than a babbling, bouncing baby? How about "two?" Sexy single dad Clayton Traub already has a full plate with adorable six-month-old Bennett. But now tipsters tell us Clay's got a new main squeeze in Antonia Wright. Yes, "that" Antonia-feisty, independent and eight months pregnant.
Antonia knows better than to fall for a wrangler bunking at her boardinghouse-"particularly" in her condition. But how can she resist Clay's magnetism when he's living so close? Never underestimate the power of a Traub, big or small. Stay tuned, rough riders, and see if the cowboy daddy can lasso Toni's heart.
Good book. Clay has come to Thunder Canyon for two reasons: one, to keep his brother Forrest company as he works with a veteran's group, and two, to get away from the gossips in his Texas hometown. They and his infant son are living at Antonia's boardinghouse. Clay finds that he really likes Antonia, who is also very good with his son. She is also very pregnant and not interested in forming any relationships. I liked both Clay and Antonia. Antonia had been deserted by her boyfriend as soon as he found out she was pregnant. But she is very independent and quite determined that she can handle being a single mother. She also finds that she is very attracted to Clay, but blames it on her hormones. As she gets to know him, she discovers that she really likes him, and those feelings start to strengthen. She also knows that any relationship they have will end as soon as she has her baby, since he has stated that he has no interest in going through that again. I liked her independence, though she certainly seemed to go overboard with it at times. Clay is a great hero. I love the way that he stepped up to being a dad, even though it had not been in his plans. He obviously adores his son and I love seeing him be a daddy. He also has no intentions of having any sort of permanent relationships, intending to devote his time to his son. He is just as attracted to Antonia as she is to him, and loves getting to know her. He is still thinking about a no commitment relationship up until she goes into labor. I loved seeing him work at convincing Antonia of his love, and his proposal at the end was terrific.