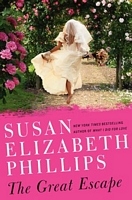 Where do you run to when your life has fallen apart?
Lucy Jorik is a champ at never embarrassing the family she adores -- not surprising since her mother is one of the most famous women in the world. But now Lucy has done just that. And on her wedding day, no less, to the most perfect man she's ever known.
Instead of saying "I do" to Mr. Irresistible, Lucy flees the church in an ill-fitting blue choir robe and hitches a ride on the back of a beat-up motorcycle plastered with offensive bumper stickers. She's flying into the unknown with a rough-looking, bad-tempered stranger who couldn't be more foreign to her privileged existence.
While the world searches for her, Lucy must search for herself, and she quickly realizes that her customary good manners are no defense against a man who's raised rudeness to an art form. Lucy needs to toughen up -- and fast.
Her great escape takes her to his rambling beach house on a Great Lakes island. Here, she hopes to find a new direction . . . and unlock the secrets of this man who knows so much about her but reveals nothing about himself. As the hot summer days unfold amid scented breezes and sudden storms, she'll also encounter a beautiful, troubled beekeeper; a frightened young boy; a modern-day evil queen; and a passion that could change her life forever.
I enjoyed the book. Lucy leaves Ted at the altar, realizing that she doesn't actually love him. She grabs a ride with a guy on a motorcycle who just happens to show up at the back of the church. He is rude and obnoxious and does his best to get her to go back to her fiance. After helping her hide out for two weeks he dumps her at the airport and tells her who he really is. She's pissed at him and still not ready to go home, so she heads for Michigan and the house she discovered he has there. She disguises herself so that no one recognizes her. Then she breaks in and takes up residence there as she tries to decide what she wants to do with the rest of her life. When Panda/Patrick shows up he isn't happy that she's there, but lets her stay as he heads out for another job. She gets to know the beekeeper and her ward next door. When Panda comes back with his latest protectee, Lucy stands up to him and refuses to be chased off. They are still attracted to each other, but spend most of their time pushing each other away. As Lucy begins to find herself and her new direction, she also wants to find out more about Panda and what makes him tick. When he finally chases Lucy off for good, she has at last decided what she wants to do and makes a start on that new life. She's still unhappy without him and decides to try to get him back.
I did like both Panda and Lucy. Panda is a protector. His initial time with Lucy is part of that, but he finds himself attracted to her also. He tries very hard to get her to go home by acting like a really obnoxious jerk. When he finally drops her at the airport he figures that's the end of it and he can move on. Finding her at his home in Michigan was not in his plan and he didn't know what to do. He ended up letting her stay, even while he had someone else there he had to protect. He is still drawn to her, even as he wants her to leave. He finally admits to himself that he wants to be with her, but feels his past and his other issues make it impossible. He eventually drives her away and tries to go on without her, before he admits he needs help. I liked Lucy also, though she did occasionally irritate me. I was glad to see that she didn't go through with the wedding since she knew that she didn't actually love Ted. Her initial attitude toward Panda bugged me, since it really made her look like quite a snob. She did have the smarts to know that she really needed to get her life back in order. She had buried herself in what she thought was expected of her and now had to decide whether to go back to being that person or reinvent herself. When she headed for the island, she donned a "bad girl" disguise that still didn't seem to really fit. Her time on the island was spent trying to get to know the real man, plus getting to know the other people. She spent time getting to know the people next door which helped her decide what direction her life was going to take. She was also finally able to take care of writing about her mother that he dad had asked her to do. I really enjoyed the way she finally decided to go after Panda. There was a lot of good interaction among all the characters. I liked the character development of all the people. I could see how they changed throughout the book. The romance wasn't very intense between Panda and Lucy, but it did develop. I loved the scene at the end at Lucy's parents' home.