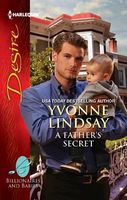 Series: Billionaires and Babies
There'd been a mistake at the fertility clinic. Now widow Erin Connell has to face the possibility that her baby son is not her husband's child. And worse, that Connell Lodge, her son's legacy and the only real home she's ever known, may be lost to them both.
But billionaire Sam Thornton's arrival at her bed-and-breakfast changes everything. Erin is stunned by the ferocity of her sudden attraction. Sam, too, is thunderstruck…and tormented. He's come here for one reason only, and falling for the pretty owner isn't it. He's not leaving without her son—his son….
Very good book and very emotional. Erin and her husband had gone through a lot to have their baby boy. Then her husband died and left her alone to raise baby Riley. Getting a letter stating that there had been a mix-up and that her son may not be her husband's child devastated her. To top it all off, she was incredibly attracted to the newest guest at her lodge. Besides her growing feelings for him, he is so good with her son that it makes her feelings even stronger. Sam had come to the lodge for one reason - to see his son and take him away with him. He wasn't expecting the strong attraction and it was causing problems for him. I really liked both Erin and Sam. Erin had come to Tahoe to start a new life for herself after a miserable childhood and life as a runaway. Marrying her husband and having Riley gave her the family and stability she had never known before. She was terrified that this news would cause her to lose her son and her home. Her attraction to Sam scared her, but it also filled an emptiness in her. The more time they spent together the more she fell for him. Sam had been full of guilt over the death of his wife and the responsibility he felt for it. He never expected to feel so strongly for another woman. Her love and care for Riley made his feelings even stronger, but also made him worry about what would happen when she found out who he was. He did not handle the revelation well and subsequent events made him look like a selfish jerk. I knew he was good at heart because of the way he cared about Riley, but it took him far too long to see the effects of his actions on Erin. There were a couple surprise twists at the end. The emotional turmoil they went through - especially Erin - was hard to read at times, but made for a very satisfying read.