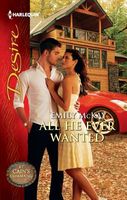 Series: At Cain's Command (Book 1)
After dedicating his life to his family's company, Dalton Cain won't let his father just give away a fortune. He'll save his legacy. And he knows just the woman to help. But getting Laney Fortino to trust him again isn't going to be easy. She still considers him a coldhearted jerk.
Years ago, he'd told himself he'd left Laney for her own good. But seeing her again, feeling the undeniable attraction between them, he vows to rekindle what he'd once thrown away. And this time, family won't stand in the way.
Good book. Dalton has put the company before everything else in his life. His father is dying and has just received a letter telling him he has an illegitimate daughter. But the letter is anonymous and gives no other information. So dear old dad tells his sons that they must find the girl themselves. The one who does, gets the company and if no one does the company will be turned over to the state and sold. Dalton refuses to let that happen and thinks his parents' old housekeeper may have some ideas. He used to be friends with her granddaughter Laney, until he dumped her when they were in high school. She wants nothing to do with him, but decides to help anyway. As they work together the attraction they feel grows stronger. But Laney is hiding something and fears what will happen when he finds out. Dalton and Laney were pretty good characters. Dalton was very company focused at first, just wanting to find the girl and save his job with the company. He did feel his old attraction to Laney and intended to get her into his bed, even though he had no intention of ever getting married again. He had picked his first wife on the basis of particular qualities, not on love. The more time he spent with Laney, the more he felt that there was more to life than what he had been doing. While he still wanted to find the girl, Laney also made him think about other options for his life. I liked Laney a lot. She was pretty down to earth with a normal life. She was caring for her grandmother, who has Alzheimer's. She also was trying to figure out where a large sum of money in her grandmother's account had come from. She was afraid her grandmother had stolen it from the Cains and didn't know what to do. She was attracted to Dalton, but still furious at the way he had treated her when they were in high school. She didn't trust him not to treat her the same way when he was done needing her help. I liked the way she was so determined to help him with his search. She should have told him about the money right away, but I could understand why she didn't. I loved the conclusion of this book and the way that Dalton dealt with the search. I have to say that I really hated Dalton's parents.