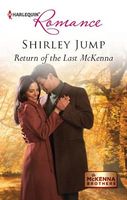 Series: McKenna Brothers (Book 3)
Dr. Brody McKenna has just returned home from serving as a medic in Afghanistan, and he has one more mission to fulfill….
Standing outside Kate Spencer's sweetshop, he takes a deep breath. Going through that door will take courage, for he's here to keep a promise made to his dying friend. He's prepared for tears or anger -- not the deep attraction he feels for sparky-but-stressed Kate. One spontaneous offer of help later, this hero is surrounded by cupcakes, candy canes -- and the greatest enticement to forget his past and take a new kind of risk.…
Brody went to Kate's shop to make sure she is doing okay. He had known her brother in Afghanistan and was with him when he died. He can't tell her who he is, but can't stop himself from going back again and again. He finds himself very attracted to Kate, and the more he's with her the more he falls for her. I really liked both Brody and Kate. Both of them are in pain from Andrew's death and both of them feel guilty. Brody promised Andrew that he would check on her and make sure she was moving forward, but not tell her why for fear of causing more pain. Brody's guilt and promise are what sends him to Kate to start with, but it is Kate herself that makes him keep going back. Being with her makes him feel better and worse - better because of the feelings he's starting to develop and worse because of feeling like he didn't do enough to save Andrew's life. The more he's with her the more he feels he needs to tell her the truth, but he's afraid of her reaction. Kate misses her brother intensely. He was the one who was the motivator for expansion and other risks, while Kate tended to be more cautious. Without him, she is pretty much standing still. When Brody starts coming around she is attracted to him, but senses that he is holding something back. She likes spending time with him and begins to care for him, but worries about what secrets he is hiding from her. When he finally comes clean she is devastated by what he has to tell her and doesn't want to see him again. I loved the way that his brothers helped him.