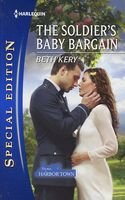 Series: Home to Harbor Town (Book 5)
UNEXPECTEDLY EXPECTING
She'd been his best friend's wife...then widow. And air force pilot Ryan Itani had been enthralled with the very idea of Faith Holmes even before they met. They say grief makes one do crazy things-well, chalk sleeping with Faith as one of them. Then finding out she was carrying his baby... What was a man of honor to do?
But Faith wasn't about to let him into her home, much less her heart. If there was any chance to be a part of her and their child's life, he had to prove he wasn't just another carefree flyboy. Ryan had risked life and limb before, but this was about to be the solider's most important mission.
Very good book. Ryan had gone to see Faith at Christmas to check on her after the death of his best friend. They ended up sleeping together, then Ryan went back to California. Three months later he came back to Michigan and discovered that Faith was pregnant. He was stunned but happy and made the decision to move his business to Michigan so he could be closer to Faith and the baby. He had been unable to forget her and wanted to get to know her better. I really liked both Faith and Ryan. Ryan was such a completely nice guy. I could see right away that he was completely different that Faith's cheating husband. He was so excited about the baby and determined to take good care of Faith. I could also see how much he had cared about Faith even before the baby, that he had begun to fall for her even while her husband was still alive. He knew that Faith had trust issues and tried very hard not to rush her. I really liked his patience and the obvious love he had for Faith. Faith had been badly burned by her husband. He was a complete playboy who made no effort to be true to his marriage vows. She had filed for divorce right before his death. When she and Ryan gave in to their momentary attraction she thought that would be the end of it. She was stunned when he wanted to be part of her and the baby's life. She also had no intention of getting permanently involved with another pilot, as she considered them all bad risks. When she accepted Ryan's proposal of marriage for the baby's sake she really thought she could remain distant, but it didn't work out that way. Ryan laid very careful siege to her heart and she found herself wanting to believe that it could work out. There was a bad spot at the very end, but I loved the way that everything worked out for them.