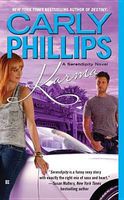 Series: Serendipity (Book 3)
Police Officer Dare Barron has had a crush on Liza McKnight ever since he was a teenager. But despite his lifelong attraction, the closest he's ever come to interacting with her is watching Liza regularly bail out her brother at the station.
Dare's dark past with Liza's brother, Brian, has always kept him from pursuing her. But suddenly Liza finds herself in need of protection and Dare appoints himself as the man for the job. And while the sizzling attraction between Dare and Liza draws them together, the past that Dare and Brian share threatens to keep the two apart forever.
Excellent conclusion to the trilogy. Dare's teenage crush on Liza has never gone away. But the only time they see each other is when she's bailing out her brother and Dare is giving her a hard time about it. His friends have told him that until she sees him as something other than a cop, that's all it will be. Suddenly he's running into her all over town and discovers that the attraction he feels is reciprocated. They give in to their passions and begin a relationship, but it has some major problems they have to work through. When threats are made against Liza, Dare moves in as protector. But he has to learn to deal with her relationship to Brian, and she has to learn to trust.
I really liked both Liza and Dare. Liza is a strong, sexy lady. She works hard, but ends up bailing her brother out of trouble many times. He was responsible for the death of a friend when he was a teen, but his indulgent parents covered it up. They also told Liza it wouldn't have happened if she'd been there. Her parents had been crappy parents, indulging Brian and basically ignoring Liza. She'd also had bad luck with a couple other relationships, and as a result keeps herself emotionally distant from everyone. When she discovers an intense attraction to Dare, she gives in to it, but doesn't expect it to last because nothing ever does. She knows Dare has problems with her brother, but tries to keep the two separate. Unfortunately for her, things are happening that keep blurring the lines. Dare has always seemed to be the happiest of the three Barron brothers. What no one realizes is that he has buried some intense pain very deep. He was at the party where the teenager died and has always felt guilty for not doing anything to try to save the boy. He has always had feelings for Liza, but now he can finally indulge in them. He has a problem in that he really hates Brian for what he did, and that Liza is always helping him. There are several times in the book when I want to smack him for being so judgmental. He really loses it at one point toward the end of the book and nearly ruins his relationship with Liza forever. Thanks to his family he begins to see what he did and makes the effort to right his wrongs. There were parts of this book, especially near the end, that were incredibly emotional to read. I loved seeing more of the brothers and their wives and Tess. Seeing them include Liza in their family was really wonderful. It brought home to Dare just how alone Liza had been, and gave him more insight into why she behaved the way she did. I'm looking forward to going back to Serendipity when the next books come out.