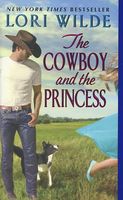 Series: Jubilee Texas (Book 2)
Brady Talmadge was a cowboy with five unbreakable rules:
1) Never pick up a pretty hitchhiker
2) Avoid damsels in distress
3) Never order chili at a truck stop
4) Always trust your gut
5) Never tell a lie . . .
This is what happened when he broke all his rules . . . and got into a whole lot of trouble!
On the run from an arranged marriage, Princess Annabella of Monesta dons the guise of a hitchhiking cowgirl. But when she finds herself drenched, alone, and hungry, she has no choice but to trust the tall Texas horse whisperer who offers her a ride. He's like no one she's ever known -- a strong sexy man who says just what he thinks. And when one wild kiss leaves her breathless, she quickly realizes she'll give up everything to spend a lifetime of night times in his arms. But how can there be happily-ever-after with palace guards hot on her trail?
A really fun book. Annie is on the run from her responsibilities as a princess. She just wants a chance to be normal for a little while before she gets stuck in the planned political marriage. She is standing in the rain, looking pretty pathetic when Brady stops to pick her up. He plans to just leave her at a nearby truck stop and continue on his way, but ends up taking her along. He breaks all his self-imposed rules when he picks Annie up and knows she's going to be trouble. He takes her along to Jubilee where he will be working with Joe Daniels' horse (The Cowboy Takes a Bride). Annie ends up getting a job with Mariah's wedding planning business and living in a cabin on the property. Annie and Brady's intense attraction only grows as they spend more time together. Annie has made it clear she's only around for a short time, and Brady is clear on his avoidance of commitment. They enjoy each other's company and pretty soon their physical relationship is getting pretty intense. I really liked both Brady and Annie. Brady is pretty much a loner and avoids commitment by staying on the road with his horse whisperer job. He knows Annie is hiding something when he picks her up, but he can't just leave her. Her mix of naivete and sophistication are intriguing to him. He takes her along to Jubilee and as the next few weeks pass he gets to know her. He finds himself quite content staying in Jubilee and doesn't feel the urge to move on like he usually does. Just as things are intensifying with Annie he gets hit with a surprise that changes his outlook and his way of life. I loved Annie too. She is so completely clueless when Brady picks her up that it is pretty funny. Her confusion about American slang is fun to watch, and I love seeing her trying to adapt to Texas life. Her references to the movie Roman Holiday are great (it's one of my favorite movies). She really likes her life in Jubilee and doesn't want to go back, even though she knows she will have to. She falls in love with Brady, but when her time is up she leaves to go home to her wedding. There is a surprising twist waiting for her that was just what was needed for her happy ending. The people of Jubilee are still wonderful characters and add a lot to the story. And I loved Brady and Annie's dogs, Trampus and Lady Astor. They have their own little romance going on.