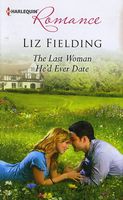 Tall, dark and brooding -- and back for good?
Claire Thackeray: Hardworking single mom and gossip columnist. Hoping for the inside scoop on sexy billionaire Hal North, aka her teen crush!
Most wary of: Gorgeous men who set her heart racing. (Been there, got the T-shirt -- and the baby!)
Hal North: Bad boy made good. Back in his hometown as new owner of the Cranbrook Park estate. Determined to put his troubled past behind him.
Most wary of: Journalists -- especially pretty ones, like new neighbor and tenant Claire Thackeray.
Very good book. Hal was once the bad boy of Maybridge, before he was chased out of town by Claire's father and the previous owner of Cranbrook Park. Now he is back, and the new owner of the estate. Claire's father is gone, so he intends to take his revenge on her, who he remembers as the local princess. Claire is now a single mother, working for the local newspaper. She remembers Hal very well, because she had had a crush on him. Now she wants to do a story on him, but he has no intention of giving it to her. Hal starts out intending to destroy Claire and her home. But every time he does something to make things awkward for Claire he finds himself spending time with her and her daughter and having fun. He hadn't intended to spend any time actually at the estate, but now he is there and doing nice things for Claire and the rest of the town. I loved the way that he kept acting like a ruthless monster, but his inner nice guy kept coming to the surface. I liked Claire also. She had made the decision to give her daughter the best life she could. She works very hard at her job at the newspaper and is determined to get the story on Hal and how he went from bad boy to billionaire. She did have a tendency to jump to conclusions, but had no problem owning up to her mistakes. I loved the way she was a good influence on Hal. There was some wonderful dialog between the two that made them seem even more real to me.