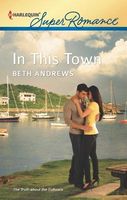 Series: The Truth About the Sullivans (Book 3)
Single mom Tori Sullivan is ready to grab the life she's always wanted—away from Mystic Point. And initially, newcomer Walker Bertrand seems the ideal partner for her adventure. His appeal makes a girl fantasize about happily-ever-after. That is, until it's clear this lawman's strict moral code collides with her knack for bending the rules. Add in his investigation of her sister and that should be a warning that he's not Tori's fairy-tale ending, or her ticket out of town.
Yet, Walker seems bent on getting to the bottom of her secrets—something no one has tried to do in a long time. That he wants to know the real Tori, makes resisting him impossible. But being with Walker could be the one thing that holds her here.
Good book and nice wrap-up to the series. Walker had come to town to investigate Layne and Ross about possible wrongdoing in their investigations regarding her mother's murder. He had also been put in charge of the investigation into the boyfriend's death. He is a rigidly careful man who never lets anything interfere with his job. But he is immediately attracted to Tori, even though she is one of the suspects. Tori is used to men being attracted to her and she uses those feelings to try to get to Walker. I liked Walker. At first he was pretty obnoxious in his attitudes toward the Sullivans and Ross, but it was pretty obvious that he used it to see beneath the surfaces. He was frustrated by his inability to read Tori. He couldn't figure out who the real Tori was. He was also frustrated by his inability to make progress on his investigation, until Ross passed on some information he had been working on. As the days went on, he couldn't stay away from Tori and began to see the woman behind her public persona. I had a little harder time actually liking Tori. She made herself act like her mother as a way to protect herself. When she couldn't chase Walker away, she wasn't sure what to do. Then she found herself falling for him, which scared her. When all the pieces of the mystery started to fall into place, the entire Sullivan family was devastated. I did like the way that Tori finally went after Walker. I would like to see a story for Anthony Sullivan, once he's had his time to grow up.