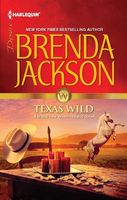 Series: Westmorelands (Book 23)
Megan Westmoreland needs answers about her family's past. And Rico Claiborne is the man to find them. But when the truth comes out, Rico offers her a shoulder to lean on...and much, much more. Megan has heard that passions burn hotter in Texas. Now she's ready to find out....
Good book. Megan has taken over part of the family's search for information about one of their ancestors. Rico is a private investigator she hired to help her. He is also a family member by marriage and incredibly attractive. When she first meets him at a family wedding she is immediately attracted to him. When she invites herself along on one of his investigation's trips, he lets her know that he's attracted to her also and plans to act on it. During their trip some interesting things about her ancestor come out and Rico helps her deal with them. I liked both Rico and Megan. Megan is a woman who has pretty good control over her emotions, but Rico is very good at blowing that control away. She is also very family oriented and determined to find out the truth about her great-grandfather. Even though Rico insists that he works alone, she still plans to show up to participate in the investigation. She also feels that she can handle her attraction to Rico even though he states flat-out that he's determined to get her in his bed. I did like the way that she made her own decisions about what she wanted to do. Rico is a guy who eventually wants a family, but is pretty soured on marriage because of his father's actions. When he meets Megan there is an immediate connection. He's reluctant to act on it at first because of the family connection, but changes his mind pretty quickly. He does everything he can to make Megan want him. He's also very good as an investigator and finds some interesting info on Megan's great-grandfather. When the initial information upsets Megan, he is great at making her feel better. He also starts thinking about the info they got and realizing that some things didn't add up. The conclusion was very good, and sets the stage for the next book. The entire book was good, though there were times I felt it belonged more in the Blaze line than the Desire line.