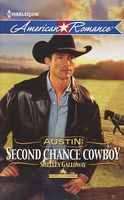 Series: Harts of the Rodeo (Book 4)
Wild At Hart
No man should look as good as Austin Wright. Especially when that man is a suspect in a string of burglaries. And, Sheriff Dinah Hart can't afford the distraction. Roundup's thieves are growing bolder and Thunder Ranch's prize stallion, Midnight, is still missing, putting the Harts' entire livelihood at risk. Dinah needs to focus, because she's worked too hard to earn the town's respect just to throw it away on a fling.
Austin knows he's got a bad reputation. He's been following his father's self-destructive footsteps for far too long. Now he's finally ready to take the first step toward fixing his life, and convincing people, especially Dinah, that he's changed. But when Austin discovers an unexpected connection to Midnight's disappearance, will Dinah see him for the man he was, or the one he's trying to become?
Very good book. Austin has woken up once too often not remembering what he did the night before. He is intent on making some changes in his life. Dinah is run off her feet trying to solve the crimes of the thieves and the missing horse. She and Austin had been good friends during their wild high school days. Dinah is attracted to Austin, but she doesn't want to jeopardize her career by having a fling with him, especially once he becomes a suspect in the robberies. But Dinah can't help being drawn to him and soon their attraction becomes physical. I really liked both Dinah and Austin. I loved the way that he realized that he needed to make some changes in his life, and then that he needed help to make those changes, He is a very independent guy and doesn't want to admit that he can't do it on his own. I liked the fact that once he made up his mind he stuck to it. I enjoyed the way that he would give Dinah a hard time and flirt with her. When he realized it was more than just flirting he wanted he was pretty surprised. He was ticked off when Dinah suspected him about being in with the thieves, but did admit that she was just doing her job. I liked the way he was able to move past that and continue his pursuit of her. I also liked the way that he looked out for her. He could see that when she got involved in her work she completely forgot about doing things like eating. I liked being able to see him as he worked through his problems and how hard it was. I also liked seeing his relationships with his sister and father improve. I really liked seeing Dinah in her job as sheriff. She obviously took it seriously, but had some feelings of inadequacy as the thieves continued to elude her. I also enjoyed seeing the contrast between her tough girl sheriff attitude and the softer side shown in her home and with her family. She hated suspecting Austin in the robberies, but knew she had to investigate anyway. I could also see the way that the sparks shot off the two of them whenever they were together. I loved the ending and the way things worked out for them. Seeing the other family members is always a plus.