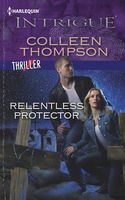 Series: Thriller
Former army ranger Cole Sawyer reacts on instinct when he sees beautiful young widow Lisa Meador pull a gun at the bank. He foils the robbery, but when Lisa screams as the real robbers take off with her son, he realizes that things aren't what they seem. Driven by a painful secret, Cole makes the split-second decision to join forces with Lisa and trail the criminals across Texas.
Haunted by his failure to save Lisa's husband in Afghanistan, Cole is determined to help her rescue her son. But he's even more determined not to give in to his growing attraction to her. As they untangle clues and face the potentially devastating loss of their quarry, they soon realize that the kidnappers' motives run deeper -- and darker -- than they ever expected.…
When Cole breaks up what appears to be a bank robbery he finds out that Lisa had done it because her son was being held hostage. He immediately joins Lisa in trying to follow the kidnappers to get her son back. The action is non-stop as Cole and Lisa keep trying to catch up. When they finally do, they discover this was more than just a random kidnapping and that Lisa and her son are in far more danger than they thought. I really liked both Cole and Lisa. Cole was still feeling guilty over his inability to save Lisa's husband, and was determined he wouldn't fail in saving her son. There were a couple times when he considered leaving it to the cops, but ended up sticking with Lisa. His determination at the end had him overcoming his injuries to save Tyler. Lisa was raising her son on her own after her husband's death in Afghanistan. When she was carjacked and forced into an attempted bank robbery she was desperate to do whatever needed to save her son. When Cole foiled her robbery she got him to help her chase after the kidnappers. I liked the way she was mostly able to keep her head. She also felt an attraction to Cole, but refused to let it distract her her. She was also very clever in the way that she snuck off to follow the kidnappers' instructions. She would have gotten away with it if Cole hadn't been a little suspicious of her actions. I also liked the way that she attacked the kidnapper in that final confrontation. The way that she and Cole came together at the end was just perfect for them.