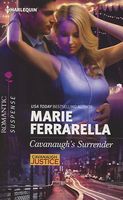 Series: Cavanaugh Justice (Book 23)
"The killer is still out there."
Crime scene investigator Destiny Richardson receives the shock of her life when she finds her sister dead in a bathtub. Detective Logan Cavanaugh thinks it's an open-and-shut suicide case. But Destiny's convinced her sister was murdered. And she's not about to have some arrogant cop tell her otherwise-even if he is the sexiest man she's ever met.
Logan knows it's pointless trying to convince Destiny that it's against the rules to work on a relative's case. The crime scene investigator is as stubborn as she is gorgeous. Besides, Logan wouldn't mind getting to know her better. When it becomes apparent that there's a serial killer on the loose, Logan is bent on protecting the woman he's falling in love with.
L
oved the book. Destiny is devastated by the death of her sister, but knows it isn't suicide. Fortunately, the head of the CSI unit agrees. Logan isn't convinced but he'll investigate further. Destiny isn't about to step back and leave it alone, so she jumps in and discovers a connection to several other "suicides". I really liked both Logan and Destiny. Destiny knew her sister very well and was sure that her death was not a suicide. She didn't like Logan at first and the way he was so sure he was right. She also was very attracted to him, but didn't trust his carefree social life. She was so very focused on finding her sister's killer that she didn't want to pay any attention to what might be developing between them. She couldn't help but be touched by the way he helped with her sister's funeral. She was also frequently irritated by the way he tried to take care of her, but also appreciated it because she hadn't had anyone do that in a long time. Logan made a great hero. He was hard to convince at first, but once he was he was all in. He wasn't thrilled to have Destiny working with him because of her personal involvement, but soon found that she was an asset. He was also very attracted to her, and wanted to get to know her. I loved the way that he looked out for her, trying to help her whenever he could. I loved the way that he stepped in to help with the funeral, calling on his new Cavanaugh relations for help. I always love the way that the family is there for any kind of support. I loved the ending when Logan was able to convince Destiny that they had a future together.