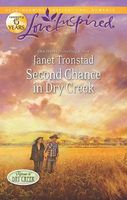 Series: Dry Creek (Book 24)
Her neighbors in Dry Creek, Montana, think Gracie Stone is rebuilding her life just fine on the family ranch. But Calen Gray knows better. Foreman of nearby Elkton Ranch, Calen has been sweet on Gracie half their lives. But harrowing circumstances kept them apart—and sent Gracie away. Now she's back, barely holding her head up, and refusing to believe she has a second chance at happiness. With faith, love and the gentle airing of long-held secrets, Calen just might find a way to bring back her smile—forever.
Good book. Gracie is settled back on the family ranch and happy that her sons are all married and settled down. Now they want to see her have a second chance at love. Calen works on the ranch next door and has always been sweet on Gracie. One night there's a knock on the door and it's an injured young woman with a child. The woman turns out to be Calen's daughter and she has her daughter with her, on the run from her abusive husband. As Gracie helps take care of the little girl, Calen is able to spend time with her and show her that she can trust again. I liked Calen and Gracie. He has liked Gracie since they were teenagers, but her husband had asked her out first so Calen was out of luck. He has felt guilty for not being able to protect her from Buck's abuse and for not being there for her when she went to prison. Now he knows he must be patient and show her that he is just what she needs. Gracie still feels that she is looked down on and barely interacts with other people. Calen's kindness to her makes her want to trust him, but she doesn't know if she can. Seeing him with his granddaughter and having him around to help her opens her eyes to the kind of man he is. I really enjoyed the conclusion to this story.