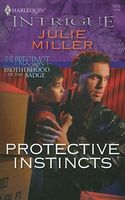 Series: Precinct: Brotherhood of the Badge (Book 1)
HE SWORE A VOW TO PROTECT AND SERVE BOTH MOTHER AND CHILD
Kansas City had no better guardian than Sawyer Kincaid. The decorated police officer had a family legacy to uphold and a reputation that none could rival. Until one distress call ignited the most personal case of his career....
He'd saved Melissa Teague's life once--long before she had a son. The boy would be safe with Sawyer, but she wasn't so sure how she could bear his presence again, not when their feelings endangered them both. A man that powerful-- however gentle--scared her, no matter how right Sawyer fit . But this time her protector would not walk away, not with his family's lives on the line. This was his sworn duty.
Very good book. There are two stories going on in this book. It starts with the murder of Sawyer's father, by a currently unknown assailant. He had worked with John Kincaid in the military and appears to have something he needs covered up. The other story is that of a jailbreak involving Melissa's ex-husband, an abusive man who wants Melissa back. Sawyer had met Melissa when he was doing undercover work and had been attracted to her then. He felt guilty because he had been unable to prevent an attack on her by her then husband. When he finds out about the escape, he jumps in to act as her protector. I liked both Sawyer and Melissa. Sawyer is a big guy who can be very gentle or very intimidating. His desire to protect Melissa goes deeper than just his job. He is intent on doing whatever is necessary to keep Melissa and her son safe. It bothers him that she is so skittish around him, but he understands the reasons. I loved the way he bonded with her son and had a lot of fun watching him play with the boy. I liked the way that his family got involved with them also. Sawyer was not happy with the FBI agent who was in charge of the manhunt and the way that he was handling the search. There were some great parts with Sawyer vs. Holt and the way that Sawyer would come out on top. I liked the way that Sawyer's feelings for Melissa came back so quickly and how wonderfully gentle he was with her. Melissa was great too. She was determined that she would never be dependent on a man again after the way she had been so deceived by her ex. She has learned to be strong and independent, but she tends to refuse help when she really should take it. She knows she is attracted to Sawyer, but doesn't trust herself. She is also wary of his size and temper before she realizes that he is nothing like her ex. I liked the way she worked to save herself at the end when she was taken by her ex, and how it helped Sawyer take him down. The mystery about Sawyer's dad's death was intertwined with the escaped cons, and we're left waiting to read the next book in the series to find out more.