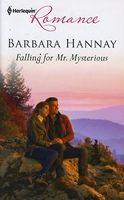 Living with Mr. Tall, Dark and Brooding...
Betrayed by her boyfriend, Emily Silver rushes to the refuge of her cousin's apartment. Only, he's away, and she's greeted by his friend Jude Marlowe.
Crime writer Jude is as mysterious as the novels he writes...and Emily can't help but be intrigued. For, beneath his remoteness, lies a man whose eyes reveal a world of pain.
Jude has a secret. And the more he falls for Emily, the more he knows he shouldn't. For he may not be able to offer Emily the lifetime together they both deserve....
Good book. When Emily rushes to her cousin's apartment for comfort after her boyfriend turns out to be married, Alex is away. But his friend Jude is there, so Emily stays. At first he is not very welcoming, but soon loosens up a little. Emily finds Jude very attractive, but senses that there is something wrong. So she offers friendship and they get closer. When she finds out what is wrong, she wants to help, but Jude is very independent and doesn't want any help. I really liked both Jude and Emily. Jude was raised to be very stoic when it comes to his health and he has never gotten in the habit of sharing his fears with anyone. When he learns that there is a chance he could lose his sight he is devastated. He is attracted to Emily, but feels he has nothing to offer her until he learns his fate. Emily has had bad luck with relationships and doesn't want to get into another one. She offers her friendship to Jude and they start spending time together. She senses that he is troubled, but he is a very private person who doesn't share his feelings well. When he finally comes clean, she is worried for him and wants to help. So she tries to put herself in his shoes and helps him do the things he wants to do. When he comes out of the hospital he just wants to be left alone and chases her away. By the time he realizes what he has done, she has disappeared. I loved the way that they finally got together and worked things out.