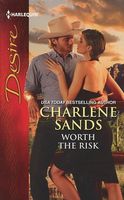 Series: Worths of Red Ridge (Book 4)
Cowboy entrepreneur Jackson Worth wakes up next to trouble…literally. His new business partner, boot boutique owner Sammie Gold, should have been off-limits, but something about her sweet vulnerability has gotten under his skin. Working with her is torture, as are the memories of what happened in Vegas….
A one-night stand with the cowboy? What on earth was Sammie thinking? Jackson Worth is drop-dead gorgeous and completely out of her league. But if Sammie wants her happily-ever-after, she'll have to shed her girl-next-door image to seduce the confirmed bachelor once and for all!
Very good book and excellent conclusion to the series. Jackson had met his sister-in-law's best friend in Las Vegas to talk about a partnership in her boot business. He was not expecting the immediate attraction between them to cause them to sleep together. Because of their near family relationship on top of their business relationship, they agreed that it wouldn't happen again. As they work together to get her new store in Red Ridge off the ground they find that they actually like each other. Their attraction hasn't gone away but they try to fight it. Besides keeping their growing attraction secret from the rest of the Worth's, Jackson's ex-girlfriend shows up and wants him back. I really liked both Sammie and Jackson. Sammie was starting her business over after being swindled by her ex-boyfriend. She had liked Jackson from the beginning, but knew him for a confirmed bachelor. A little champagne in Vegas had her giving in to her attraction to his sexiness, but she knew it couldn't go any further. I loved seeing how Sammie's boots always drew Jackson's attention. She came across as a real sweetheart that everyone wanted to protect. But she also had her moments of spice and those were fun to read. Jackson was really terrific. I could tell that he was basically a nice guy. He had been warned by his family not to mess with Sammie and he really tried. But the attraction was too strong and he just couldn't stay away. Even back home he spent a lot more time helping with her business than he normally did with others. He had been hurt by the betrayal of his ex-girlfriend and had no desire to give in to love again. I loved seeing the way that he was falling even though he couldn't see it himself. The way he finally saw the light was great, and I loved the way that his sister-in-law made him suffer. The final scene with the baby boots was just adorable.