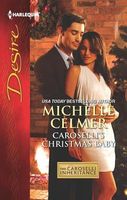 Series: Caroselli Inheritance (Book 1)
What are friends for?
She wants a baby. He needs an heir. It seems like the perfect arrangement... until they decide to conceive the old-fashioned way.
Having a baby with his best friend is the means to an end for Nick Caroselli. In his quest to receive a ten-million-dollar inheritance, he'll also be giving Theresa Phillips the one thing she really wants...a child. Once the baby's born and the money's in the bank, they can divorce, share custody and go back to being buddies. But their best-laid plans are about to take a sharp turn under the mistletoe, as things really heat up this Christmas.
Fun book. Nick's grandfather wants his three grandsons married and fathers to carry on the family name. So he comes up with a plan and an incentive. Nick doesn't really want to get married, but figures he can find a way to work around it. When his best friend Terri tells him she is going to go the donor route and become a single mom, he sees a way to make it work for both of them. What he doesn't expect is the change in his feelings from friendship to love. I really liked both Nick and Terri. I loved the fact that they had been friends for so long. When they made the decision to marry and make a baby the old fashioned way I could see where it was heading. I loved the way that Nick knew Terri so well and how he took care of her. He understood her need for independence and didn't try to take that away, but let her know it was also okay to lean on him sometimes. I loved the way that he finally realized that he loved Terri as more than a friend. Terri had a harder time of things. She had never really been given love as a child except in her dealings with the Caroselli family. She had always been able to talk to Nick about anything, and was stunned when he made his suggestion. She knew she was falling for him, but didn't want to lose his friendship so she kept trying to keep some distance between them. She just couldn't believe that he really loved her, because in her experience she always ended up along. I loved the conclusion to the story. I'm looking forward to the next book, not just for the other two guys but because I see some trouble looming and I want to see how it turns out.