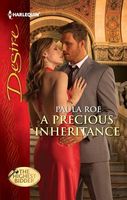 Series: The Highest Bidder (Book 4)
Vanessa Partridge has a good reason for wanting the priceless manuscript being offered at auction—it is her twin babies' legacy. But she doesn't count on the winning bidder, financial guru Chase Harrington, showing up on her doorstep.
Chase has a new obsession—Vanessa. There's more to the former-socialite-turned-working-single-mom than meets the eye…and he's going to find it. He's got secrets of his own—secrets threatened by the sexy Vanessa. More than anything, Chase wants to give in to their sizzling attraction…but can he afford to play with fire?
Very good book. Vanessa has tried to get the manuscript, but failed in her bid at the auction. When Chase showed up at her home, she felt an immediate attraction to him. Chase also felt the attraction and is fascinated by Vanessa. He senses that she has secrets and is determined to find out what they are. As they spend time together, the attraction grows and changes. I really liked both Vanessa and Chase. Vanessa has left behind her wealthy but judgmental family and is working at a job she loves and raising her twin daughters. She really wanted that manuscript since it was written by the girls' father. She doesn't like Chase at all at first since he is accusing her of rigging the auction. She is also very attracted to him, but doesn't want to be. She finds that they have things in common and enjoy spending time together. His ease with her children surprises her and makes her fall for him a little more. Chase is a pretty terrific hero. He has his secrets that he tries to protect, mostly about his early life. He had bad experiences with rich kids when he was a teenager and it affects his outlook on other people. He initially thought that Vanessa was like them and it took awhile before he really saw the differences. I loved the way he was so good with kids and how much he liked them. He had a good heart and I really liked the way that he eventually opened up to Vanessa. His proposal at the end was fantastic.