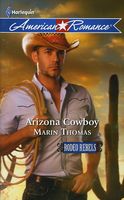 Series: Rodeo Rebels (Book 4)
Rachel Lewis is a bona fide city slicker. Still, when her estranged father asks for her help, she ends up in dusty Stagecoach, Arizona, to manage his rodeo company for the summer. Being clueless about rough stock is nothing, though, compared to the confused feelings Rachel has for sexy ranch foreman Clint McGraw...because he's also her main competitor for her father's affections.

Clint can hardly believe it when his boss hands over the reins to his long-gone daughter. What the heck does a spoiled city girl like Rachel know about rodeo? Why, she's crazy enough to offer a competition event to women bull riders! And for sure she's going to nudge her way back into her father's heart -- leaving Clint high and dry. Even so, he can't help falling hard for Rachel.


But only one of them can be the head honcho of this round-up!
Good book. Both Rachel and Clint had abandonment issues, which didn't help with their need to work with each other. Rachel came to help her father, even though she didn't know anything about rodeos. Clint knew what needed to be done, but didn't really want to help the person taking his place. Clint also had the issue of taking care of his high school daughter for the summer - and they weren't getting along. Rachel and Lauren started working together on the rodeos, and suddenly things were looking up between father and daughter. Things were also heating up between Rachel and Clint. I really enjoyed the tension between them, and the info on women's rodeo events was very interesting.