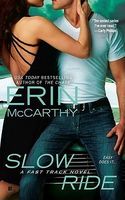 Series: Fast Track (Book 5)
As a tribute to her late journalist father, Tuesday Jones is planning a cancer benefit, auctioning off racing memorabilia and meet-and-greets with drivers. Donating a vintage stock car is ex-racing star Diesel Lange. When Tuesday looks into his piercing blue eyes, she feels like it would be so easy to lose herself -- but can she trust him with her fragile heart?

Diesel Lange has had his own brush with death. After his accident, he knows he's lucky to be alive, and he's determined not to waste another minute of his life. Even though he's retired, he still loves a thrill -- and no one has set his heart racing like Tuesday Jones. He wants nothing more than to shift their romance into high gear, but he knows her heart is still aching with grief. Can Diesel do the one thing he could never do on the track -- take it slow?
Good book, though not quite as good as the previous books in the series. Tuesday is planning the cancer benefit and dealing with her grief over her father's death. She meets Diesel at Kendall and Evan's wedding, and is drawn to him right away. He is attracted to her also, but won't do anything about it right then because she is drunk. She has several episodes during the book when she drinks too much -- seems once she starts she can't stop. This was her biggest issue during the book, and nearly causes the end of her relationship with Diesel. He is a really nice guy. I loved the way he took care of her when she needed it. He also was a good foil to her general crankiness -- he just didn't rise to her bait. He did have his own issues with dealing with his past and his emotions. I liked the way the book concluded.