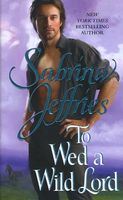 Series: Hellions of Halstead Hall (Book 4)
To fulfill his grandmother's ultimatum, Lord Gabriel Sharpe pursues a spitfire he believes desperately needs him. Then the tables are turned. . .
Like everything daredevil Gabe Sharpe does, wooing Virginia Waverly is a high-stakes game. Ever since her brother, Roger, died racing Lord Gabriel, Virginia has yearned to take her revenge on the reckless lord by beating him at his own sport. But when she challenges Lord Gabriel to a race, the hellion called the "Angel of Death" counters with a marriage proposal! Gabe knows Virginia is in dire financial straits -- so why not marry her and solve both of their problems? She claims to be appalled by his proposal, but her response to his kisses says otherwise. And when the two of them begin to unravel the truth behind Roger's death, Gabe takes the greatest gamble of all, offering the courageous beauty something more precious than any inheritance: true love.
Very good book. I liked both Gabe and Virginia. Gabe has been trying to outrun his feelings of guilt over Roger's death by doing risky things that court death. Virginia blames Gabe for her brother's death in the race that he and Gabe did. Gabe decided that he would marry Virginia, solving her financial worries and making him feel that he is helping his friend's sister. Neither of them expected the immediate and strong attraction. Gabe decides to do his best to convince her to marry him, and in their times together they begin to develop feelings that neither expected. Gabe still feels he doesn't deserve to be happy, and Virginia is trying to let go of her anger over Roger's death. The two of them work to unravel the truth behind the race. The final race scene is fantastic.