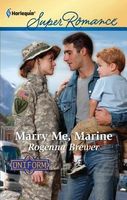 Series: In Uniform
Like any good mother, Angela Adams wants a better future for her little boy. And the one way she can provide that is to enlist with the Marines. Unfortunately, there needs to be a husband on the scene for that to happen. Fortunately, her recruiter connects her with "Hatch" Henry Miner -- a wounded former Navy SEAL willing to help out a fellow soldier. Problem solved.
But marriage, even to a stranger, is complicated. Especially when beneath the gruff exterior, there's a man with a heart of gold. It doesn't take long for Hatch to prove he's a good dad...and has the potential to be an even better husband. Suddenly Angela has a hard time convincing her heart this is a temporary operation!
Really good book. We met Angela in "Mitzi's Marine" when she showed up wanting to sign up for the Marines. Calhoun sent her to Hatch, which is where this book begins. Hatch originally had no intention of marrying Angela, but ended up doing it anyway. Then he ended up with custody of Angela's son whenever she was deployed. Over those six years they became friends, and Hatch became a wonderful father to Ryland. Whenever Angela came home there was always an adjustment period, but Hatch was always able to smooth it over. Angela always appreciated what Hatch did for her and Ryland, but knew there would be an end to it. When she came home the last time, after leaving the Marines, she had met a man and gotten engaged - just when Hatch was ready to see if she wanted to make a go of their marriage. Those last chapters of soul searching were somewhat painful to read, but very real. I also liked the realistic portrayal of the difficulties of the single parent in the military.
And though I know the authors have no control over it, when in the heck are the cover artists going to take the time to get the uniforms right? Marines don't wear those patches on their uniform sleeves -- that's an ARMY thing!