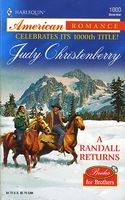 Series: Brides for Brothers (Book 12)
A Match Made in Rawhide

From the moment she meets the new sheriff, Dr. Caroline Randall knows her homecoming is a mistake. Not only does he arrest and cuff her at their first meeting, Mike Davis matches her feisty attitude. After years, Caroline's finally dared to come home -- jilted but successful. And she's brought her past with her, well hidden though it is. But nothing remains secret for long in Rawhide, Wyoming.


In this town, three things are inevitable -- death, taxes...and matchmaking Randalls. It doesn't matter how sexy the hazel-eyed lawman is, Caroline isn't in the market for a man! Now all she has to do is convince the world's most immovable force -- her family!
Good book. Caroline finally came home, and immediately crosses Sheriff Mike Davis. They are striking sparks off each other, but Caroline has decided not to marry anyone. Mike won't let her hide away, and is gently relentless in getting closer to her. Mike has some issues with being with someone he feels is far above him, but he loves her. I liked seeing the way their jobs intersected, but they were independent also. I also loved seeing the various Randalls and how they worked their matchmaking efforts.